coreVarsGenerator.c File Reference
Generate and average the core variables. More...
#include "inc/freeEMS.h"
#include "inc/commsCore.h"
#include "inc/coreVarsGenerator.h"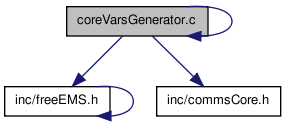 Go to the source code of this file.
---
Detailed Description
Generate and average the core variables.
This file contains the function that transfers the raw ADC values to actual physical measurements and averages them.
Author:

Fred Cooke
Definition in file coreVarsGenerator.c.
---
Define Documentation
#define COREVARSGENERATOR_C
---
Function Documentation
| | | | | | |
| --- | --- | --- | --- | --- | --- |
| void generateCoreVars | ( | void | | ) | |
Generate the core variables and average them.
Each raw ADC value is converted to a usable measurement via a variety of methods chosen at runtime by configured settings. Once in their native units and therefore closer to maximal use of the available data range they are all averaged.
TODO incorporate averaging code, right now its a straight copy.

TODO change the way configuration is done and make sure the most common options are after the first if().

TODO add actual configuration options to the fixed config blocks for these items.
Author:

Fred Cooke
TODO average the generated values here
Definition at line 59 of file coreVarsGenerator.c.

Referenced by main().

Generated on Sat Oct 16 21:29:05 2010 for FreeEMS by